NEWLY REFURBISHED SPACES
WE REFURBISHED OUR HOTELS IN BARCELONA, MALAGA, MADRID, AND VALENCIA

At ILUNION Hotels, over the last few months we have been refurbishing three of our hotels including Hotel ILUNION Barcelona, Hotel ILUNION Málaga, and Hotel ILUNION Alcalá Norte in Madrid.

The refurbishment at Hotel ILUNION Barcelona has led to improvements in the reception area, common areas, event rooms, restaurant, toilets, and gym. This hotel, found in the city's edgiest neighbourhood and just about 10 minutes away from the beach, has 66 staff members, of which 48 are people with disabilities.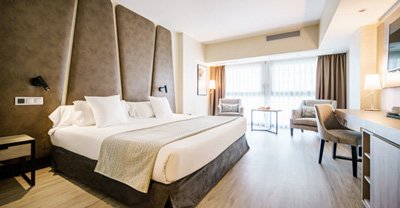 With respect to the Hotel ILUNION Málaga, where currently 71 people work and 13 have some type of disability, the works were aimed at refurbishing the rooms as well as the corridors leading to them. In addition to its excellent location near the beach and the AVE high-speed train station, this hotel has a spa and both indoor and outdoor swimming pools.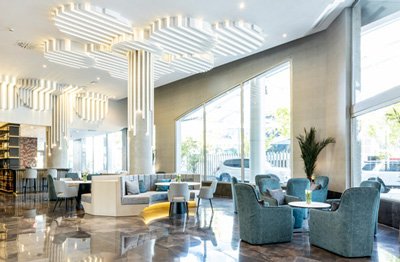 The latest refurbishment at Hotel ILUNION Alcalá Norte in Madrid were carried out in the common areas, reception, private event room, and its restaurant and cafeteria. This hotel boasts an exceptional location close to the Wanda Metropolitano stadium and offers a spacious open terrace. Currently, 54 individuals work at Hotel ILUNION Alcalá Norte, including 6 people with disabilities.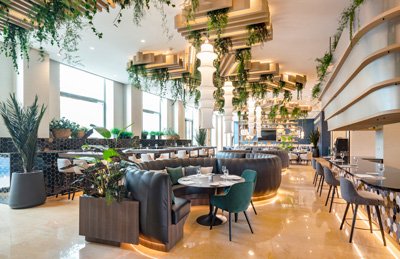 Additionally, we refurbished all the common areas at Hotel ILUNION Valencia 4. In the coming months, we will also be refurbishing the event rooms at this hotel.

ILUNION HOTELS: EVERYONE-INCLUSIVE HOTELS

At ILUNION Hotels, the hotel chain owned and operated by ILUNION, the brand of the ONCE Social Group companies, we are leaders in social inclusion in the tourism industry. In 2019, we had an average staff of 1,217 workers, 491 of whom were people with disabilities (40.36%).

The company was born in 1988 with a clear social purpose, carrying out its operations to achieve economic and social returns. Currently, we have 26 five, four, and three star hotels all across Spain. We are the only hotel chain in Spain with the universal accessibility certification (UNE 170001-2) at all of its establishments and the QSostenible certificate, which certifies the sustainability of its buildings.

Furthermore, eleven of our centres are managed as Special Employment Centres (ten hotels and ILUNION Catering by Maher, our national catering company). Accordingly at least 70% of the ILUNION payroll has some kind of disability, making the group an example of labour integration in the tourist sector.